Have you always wanted a pet but are not too sure what is allowed in HDB Flats? A pet is a lifetime commitment, it is best to consider if they are right for you and your environment. We at Findahomeloan have the perfect guide for you.
Dogs
HDB has an approved list of dogs that are allowed and you can only keep up to 1 dog from the list. If found to have breached this regulation, you can be fined up to a maximum of $4,000!
Here is the list of dogs approved from www.hdb.gov.sg:
1
Affenpinscher
2
Australian Silky Terrier
3
Australian Terrier
4
Bichon Frise
5
Bohemian Terrier
6
Bolognese
7
Brussels Griffon (Griffon Bruxaellois)
8
Bichon Havanese
9
Border Terrier
10
Boston Terrier
(a) Lightweight
(b) Middleweight
11
Cairn Terrier
12
Cavalier King Charles Spaniel
13
Chihuahua
14
Chinese Crested Dog
15
Chinese Imperial Chin
16
Chinese Temple Dog (Classic and Miniature)
17
Coton de tulear
18
Czech Terrier
19
Dachshund (Light and Miniature)
20
Dandie Dinmont Terrier
21
English Toy Spaniel
22
Griffon Belge
23
German Hunting Terrier
24
Griffon Brabancon
25
Hairless Dog
26
Italian Greyhound
27
Jack Russell Terrier
28
Japanese Spaniel (Chin)
29
Japanese Spitz
30
Lhasa Apso
31
Little Lion Dog
32
Lakeland Terrier
33
Maltese
34
Manchester Terrier
35
Miniature Pinscher
36
Miniature Schnauzer
37
Norfolk Terrier
38
Norwich Terrier
39
Papillon
40
Pekinese
41
Pomeranian
42
Poodle
43
Pug
44
Poodle (Miniature)
45
Schipperkee
46
Scottish Terrier
47
Sealyham Terrier
48
Shetland Sheep dog
49
Shih Tzu
50
Silky Terrier
51
Small Continental Spaniel
52
Small English Terrier
53
Small Spitz
54
Smooth Fox Terrier
55
Toy Fox Terrier
56
Toy Terrier
57
Tibetan Spaniel
58
Volpino Italiano
59
West Highland Terrier
60
Wire-Haired Fox Terrier
61
Welsh Terrier
62
Yorkshire Terrier
Cats
The truth is cats are not allowed in HDB flats. As much as we love these furry partners the rationale behind this is some may find cats to be an inconvenience to neighbours as they tend to roam around, shed fur or urinate in public places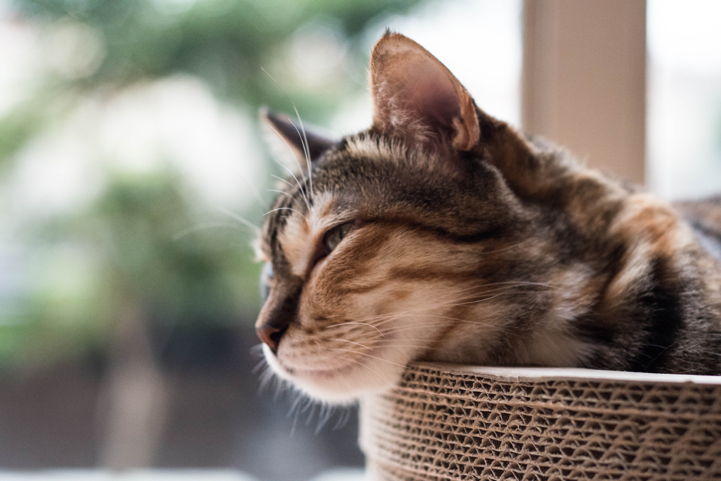 Photographer: Lizann Tan
That being said, there are still many cat owners and HDB generally 'closes one eye' unless there are complains.
A quick tip is a good idea to get your cats sterilized, it would minimize their need to roam and mate which also reduces the chances of your cat meowing at night to go out.
Other kinds of pets
Small animals that generally does not inconvenience neighbours are allowed like fish, hamsters, rabbits, Chinchillas, red-ear sliders and birds.
Exotic and endangered species
In Singapore, there is a ban on keeping certain exotic animals  as pets such as reptiles, amphibans and primates.
Here is a list of animals NOT allow:
Hedgehogs
Iguanas
Tarantulas
Scorpions, star tortoises, snakes, salamanders, sugar gliders, slow lorises
Photographer: Lizann Tan 
There are various reasons for this. For instance, keeping such animals as pets may cause an ecosystem imbalance and may start a trading trend which can threaten the survival of the species.
The climate in Singapore may not be suitable for some of these animals and as responsible people we should not have exotic pets for the sake of having one due to influence from social media platforms such as Instagram or to show off.
Final 'Bark'
With a better understanding of the kind of pets allowed, you will be able to make the right decision on your choice of pets.
Contact us today for the best mortgage advice!