What is a 3-generation (3Gen) flat?
3Gen Flats were launched in September 2013 to cater to multi-generation families living under one roof, providing everyone with their own space and privacy yet foster closer family ties at the same time.The units are approximately 115 square meters (which is 1238 square feet) and come with 4 bedrooms – 2 of which have ensuite bathrooms. There's also a common bathroom, living and dining area, kitchen, service yard and a storage-cum-apartment (aka bomb) shelter. These sizes are considered relatively large and is perhaps similar to the maisionettes.
Eligibility
To be eligible for 3Gen Flats, applicants must form a multi-generation family. Let's look at the definition.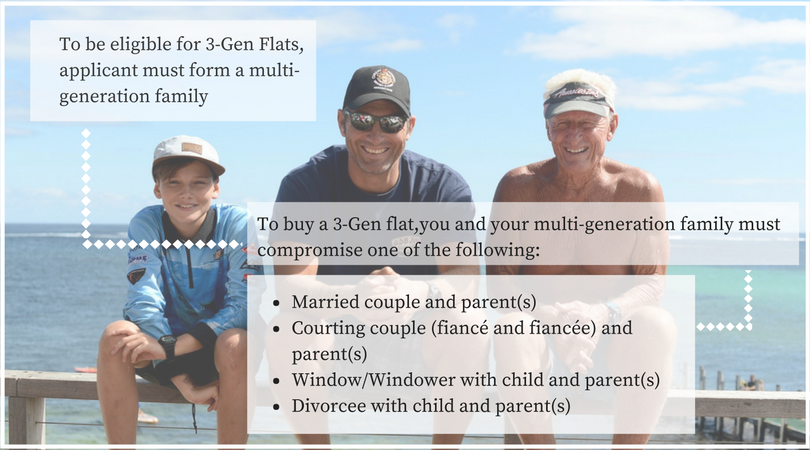 To buy a 3Gen flat, you and your multi-generation family must comprise one of the following:
Married couple and parent(s)
Courting couple (fiancé and fiancée) and parent(s)
Widow/ widower with child and parent(s)
Divorcee with child and parent(s)
You must meet the minimum citizenship requirement to buy a flat under the Public Scheme or Fiancé/Fianceé Scheme. In addition, at least one of the parents must be a Singapore Citizen or Singapore Permanent Resident.
The children are your natural offspring from lawful marriages or legally adopted, or under legal custody if the applicant is widowed or divorced.
For those planning to get married, both the fiance and fiancee must be unmarried, widowed or divorced (with Decree Nisi Absolute/Interim Judgment Final granted) at the time of applying for a 3Gen flat. If the couple have booked a flat that is completed, they must produce their Marriage Certificate for inspection by HDB within 3 months after taking possession of the flat. If the fiancé/fiancée couple have booked a flat that is under construction (BTO), they must produce their Marriage Certificate for inspection by HDB, within 3 months after taking possession of the new HDB flat or by the Delivery Possession Date (DPD), whichever is the later.
If either fiance/fiancee is below 21 but 18 years old and above, the written consent of parents or guardians must be submitted with the application.
Where can we find them?
There are units available all over Singapore, albeit in limited quantities. The upcoming sales launch in February 2017 with 3Gen Flats are available in Clementi and Tampines. Past launches include the first one Saraca Breeze @ Yishun, close to Khatib MRT Station in 2013, Punggol BayView, Tampines GreenRidge, Bukit Panjang and Ang Mo Kio.
Since its launch in September 2013, about 1,100 3Gen homes have been offered across 18 projects. Take up rate so far is 80 per cent.
After you found the flat, do not forget to do a HDB home loan comparision first.
Conditions after buying
If you own a 3Gen flat, you cannot rent out any bedrooms within the 5-year Minimum Occupation Period.
3Gen flats can only be resold in the open market to other eligible multi-generation families. This limits your net in search of potential buyers, however given the scarcity, demand should be pretty strong.
And of course, you need to know how much you can borrow and compare the latest rates.