DBS Singapore announced today their Fixed Deposit Savings Rates (FHR) will increase from 24 August 2018. These changes are on the various fixed deposit tenors and will affect many home owners.
Fixed Deposit Rates Increment
From 24 August 2018, DBS will increase fixed deposit rates for tenors from 7-month to 60-month. The bank pioneered home loans packages that linked to fixed deposit rates. These fixed deposit rates are known as FHR. For example, FHR8 refers to the fixed deposit savings rate for 8-month tenor. Since the launch, DBS have introduced and retired multiple rates (FHR, FHR8, FHR9 and FHR18). With these increments, home loans that tracks the various FHR will move up accordingly.
Summary of increments
FHR up from 0.8% to 0.975% (DBS defined FHR as average rate of 12- and 24-month tenors)
FHR8 up from 0.2% to 0.5%
FHR9 up from 0.5% to 0.8%
FHR18 up from 0.8% to 0.95%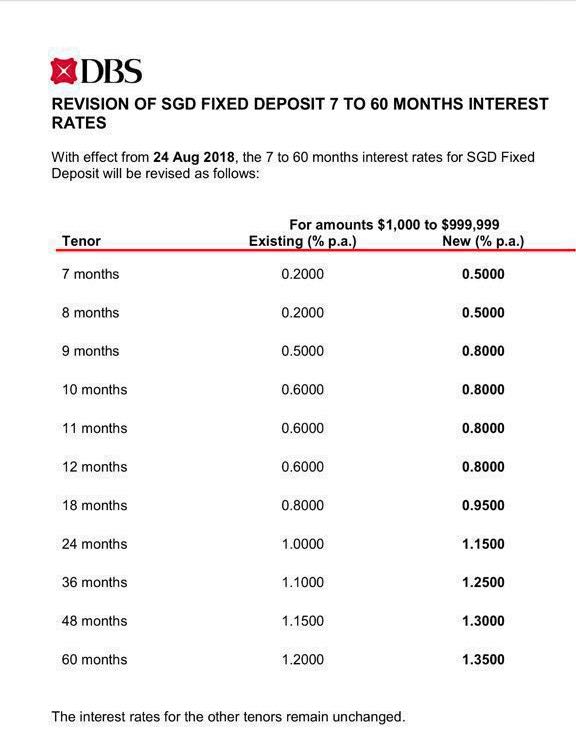 We have published other increments in this blog previously. All rates are rising including savings, fixed deposits and home loans, make no mistake about it. We are concerned that home owners may not monitor their rate closely.
Worried DBS customers should compare and calculate their mortgage refinancing options with SIBOR-linked and fixed rate packages.